All your children shall be taught by the

Lord

,
and great shall be the peace of your children.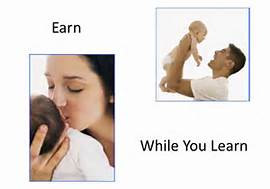 Your classes are for you!
That means you get to decide what you learn.
Here at The Pregnancy Center we understand that this may be your first baby or you may be a veteran parent. We tailor your curriculum to your needs and those of your child(ren).
Although our Earn While You Learn Program credits are specific to our pregnant clients and those with infants, our services are open to any parent or care giver with a desire to learn how to take better care of themselves and their families.
Pack 1: The First Trimester, Prenatal Care, Eating for Two, Going it Alone, Your Developing Baby
Pack 2: Smoking and Your Baby, Ultrasound, What's Safe & What Isn't, Bonding with your Baby, Your Changing Body
Pack 3: The Second Trimester, Unborn Babies Secret World, Reducing the Risk of SIDS, Learning to Think
Pack 4: The Third Trimester, Getting Ready for Baby, Eye Contact Means Love, Infant Temperament, Importance of Bonding
Pack 5: Infant Massage, Newborn Care, Crying Colic and Sleep, Caring for Yourself, The First Years Last Forever
Pack 6: Parent Child Relationship, Safe From the Start, Learning to Talk, Quality Child Care, Talk Music
Pack 7: Accidents, Illnesses, Car Seat Safety, Your Baby Can Sleep, Teaching Limits with Love
Pack 8: Food for Growth, Breast Feeding Basics, Your Baby's Development, Preventing Sexual Abuse, Never Shake a Baby
Pack 9: Postpartum, Your Healthy Baby, Reay to Learn, Happiest Baby on the Block, Toilet Training

Pack 10: Simply Breastfeeding, Breast Pumps and Briefcases
Pack 1: 9-12 Months: Big Changes, 12-15 Months: Growing Up, 15-18 Months: Ms. Personality, 18-24 Months: Mr. Independant, 24-36 Months: Big Kid
Pack 2: Life with Toddler, Temper Tantrums, Competing for Attention, More Toddler Nutrition

Pack 3: The Terrible Twos, The Happiest Toddler on the Block, Bedtime Struggles, A Sleep Easy Solution, Not Listening, Toilet Training Your Child
Pack 1: It'll Never Happen to Me, The Heart of the Matter, What Does God Say, Character Matters, Making the Commitment
Pack 2: Money Management 101, Basics of Budgeting, Checking Accounts, Positive Credit, Saving for the Future
Pack 3: Apartment Renting 101, Roommate Conflict Resolution, Furnishing and Decorating, How to Clean Your Home, Time Management
Pack 4: Shopping for a Car, Insurance Needs, Using a Recipe, Surviving the Checkout, Menu Planning
Pack 1: What is the Bible, How Did We Get the Bible, A Dash Through the Pentateuch, Israel Becomes a Nation, Walking with the Israelites
Pack 2: Dash Through The Bible, Journey Through John, Gospel of John

A Question of Adoption, A Statement of Love

A Look at Adoption
Open Adoption
Closed Adoption
Life After Adoption